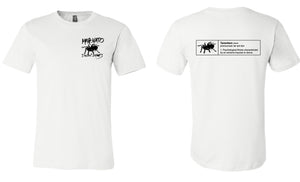 Marovato Italian Imports (100% Cotton, Unisex T-Shirt) 
"Tarantism"
Psychological illness characterized by an extreme impulse to dance. 

"Southern Italian folklore and the infamous Tarantella dance is punctuated by tambourines and eerie, almost convulsive moves (supposedly, to mimic drawing out poison from a spider's bite.) A dance, a ritual, an exorcism, an expression of unspeakable desire" - Anthony Bourdain 

Sizes available: Small, Medium, Large, XL, XXL 
Color: White 
100% Cotton

WHOLESALE REQUEST? REACH OUT TO US!