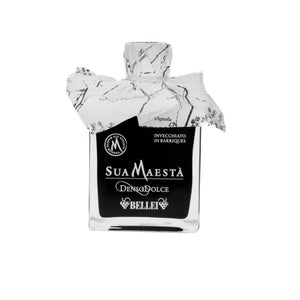 Sua Maestà Denso Dolce  is the exclusive product Bellei has been producing since its origins using only cooked grape must of the best quality to get a thick product with an intense flavor and mild acidity (4%).
It is aged in barrique and is a blend of grape must, wine vinegar and Balsamic Vinegar of Modena. It is a product particularly appreciated for its light acidity and wood notes, that create a rich and harmonious organoleptic profile.

Sua Maestà Denso Dolce di Modena was awarded as the most innovative product in the Vinegar & Dressing category at the Summer Fancy Food Show 2019 in New York.
Acidity 4%
Ingredients: Grape Must, Wine Vinegar
Net Wt. 250ml / 8.8 oz. 
WHOLESALE REQUEST? REACH OUT TO US!