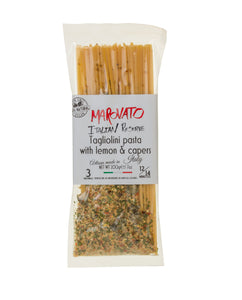 "One-Pot" Gourmet Meal 
Ingredients: Pasta, lemon, rice flour, broth, dehydrated vegetables [potato, carrot, onion, garlic, parsley, celery, tomato], corn oil, capers, carrot, garlic, chives, ginger, evoo, black pepper. Contains: Wheat & Soy.
Cooking Suggestions:
Add 1/2 cup white wine in to boiling water. Before serving, add 100g of tuna sauteed w/ 1 tbsp of butter and some parsley. 
Wine Pairing:
 Chardonnay or white, light bodied wines. 
WHOLESALE REQUEST? REACH OUT TO US!