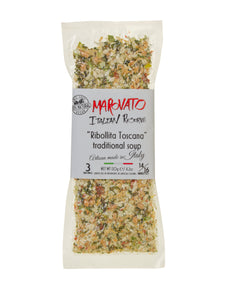 "One-Pot" Gourmet Meal 
Ingredients: bread crumbs, beans, broccoli, onion, potato flakes, broth. carrot, tomato, leek, stock, evoo, black pepper. Contains; Wheat & Soybean.
Cooking Suggestions:
Serve with evoo for drizzling, grated Pecorino cheese and black pepper. 
Wine Pairing:
 Chianti Rufina DOCG or red, still, medium body wines.
WHOLESALE REQUEST? REACH OUT TO US!