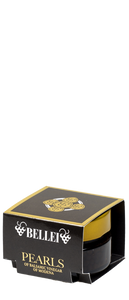 Bellei Pearls of Balsamic Vinegar of Modena I.G.P. 
These exquisite baby pearls of balsamic vinegar are something out of this world. The taste of a perfectly balanced vinegar "pops" with each and every bite. The possibilities are endless. 
Ingredients: Aceto Balsamico di Modena IGP, cooked grape must, wine vinegar, water, thickener, gelling agents. Contains: sulfites* 
Net Wt. 50g
WHOLESALE REQUEST? REACH OUT TO US!