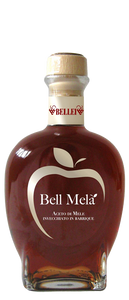 The BELL MELA condiment is born from the transposition of the production philosophy of the Balsamic Vinegar of Modena PGI into "apple version": as the Balsamic Vinegar of Modena PGI is born from the meeting of grape juice (must) and wine vinegar, so the Our BELL MELA is born from the union of pure natural apple juice and apple vinegar. The presence of the juice ensures an interesting density and a particularly fruity fragrance. Aged in barrique to increase the complexity of the aroma.
Acidity 5%
Ingredients: Apple Juice, Apple Cider Vinegar. Contains naturally occurring sulfates. No preservatives. 
Net Wt. 250ml / 8.5 oz. 
Gluten & GMO Free. 
WHOLESALE REQUEST? REACH OUT TO US!