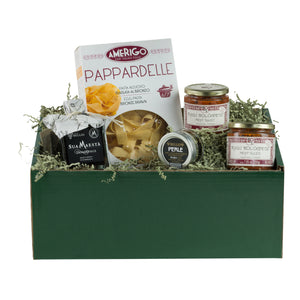 This box combines all of the classics from the northern cities of Bologna and Modena. Pappardelle Egg Pasta, Ragu Bolognese, Denso Dolce Balsamic Vinegar & Pearls of Balsamic Vinegar. These products will turn your kitchen in to a Michelin-Star Restaurant. 
The Northern Italian Box Includes: 
Bellei "Denso Dolce" Balsamic Vinegar (250ml)
Bellei "Pearls" Balsamic Vinegar (50g) 
Amerigo Pappardelle Pasta (250g)
Amerigo Ragu (200g x 2 jars) 
WHOLESALE REQUEST? REACH OUT TO US!