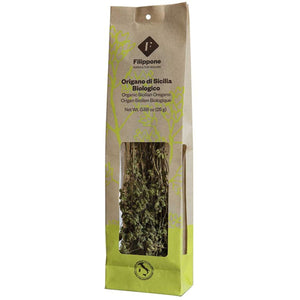 This organic Sicilian Oregano is harvested, worked and packaged rigorously by hand as required by tradition, thus granting the maximum in quality and genuineness. This aromatic plant grows spontaneously on the Madonie Mountains and is renowned for its aroma and intense perfume. It is widely used in Mediterranean cookery, especially in the preserves with oil and vinegar, and to season pizzas, potatoes, meat, fish salads, etc..
The scent of Oregano in small branches remains intact until the crumbling. 
Net Wt. 25g / 0.88oz
WHOLESALE REQUEST? REACH OUT TO US!