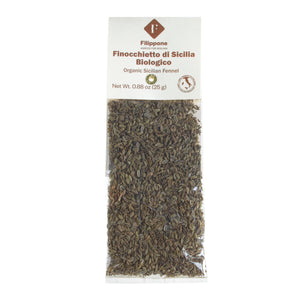 Of the wild fennel, also called "fennel" or "fennel" in the kitchen, both fresh or dried flowers are used, as well as the fruits or "diachenes", called "seeds", which are more or less sweet, peppery or bitter, to depending on the variety, both the leaves (or "beard") and the more or less large twigs, used for example in the Marche to cook bombetti (sea snails).

The leaves are used fresh and chopped to flavor soups, fish dishes, salads and cheeses: in the "pasta with sardines", a well-known Sicilian recipe, the leaves of wild fennel are one of the essential ingredients.

The flowers are used to flavor boiled chestnuts, mushrooms in the oven or in a pan, olives in brine and pork (especially "

The so-called "seeds" are used above all to flavor tarallini (Puglia), donuts or other homemade desserts and to spice sausage, mulled wine or herbal teas.

They are also part of the recipe for a typical Piedmont biscuit, the finocchino. A "fennel liqueur" is used in the coastal regions of the Tyrrhenian Sea, for which fresh flowers and / or "seeds" and leaves are used.
Net Wt. 25g / 0.88oz
WHOLESALE REQUEST? REACH OUT TO US!