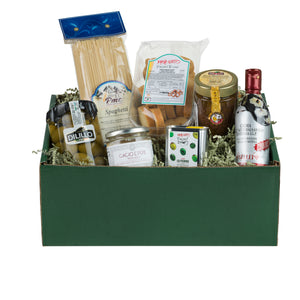 Make dinner special with this amazing box filled with some of our favorites. 
5 Star dining in the comfort of your own home.

Each box includes the following items: 
Cacio e Pepe Dinner Box Includes: 

Dilillo Cerignola Olives (550g)
Dilillo Black Olive Cream (290g)
Bellei Cream of Balsamic Vinegar (250ml)
Marovato Baked Bread Slices (150g) 
Amerigo Cacio e Pepe Sauce (200g)
PMC Spaghetti (500g)
Le Ferre Extra Virgin Olive Oil *artist edition tin* (100ml) 
WHOLESALE REQUEST? REACH OUT TO US!