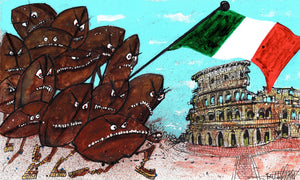 Limited Edition Art Print created from the label of Marovato's new Espresso line. This exquisite creation by Joey Feldman depicts the "Angry" Espresso Beans storming the Roman Colosseum. These bold beans sure pack a punch!! 

(1) Signed, numbered and embossed art print on Italian cold press paper. 
     - Edition: 25 
     - Size: 12" x 15-1/2"
WHOLESALE REQUEST? REACH OUT TO US!