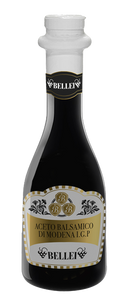 Bellei White Label Balsamic Vinegar PGI, has a sweet and sour taste and it is a well balanced vinegar of low - medium density. It is aged in oak barrels. It can be used as an accompaniment to pasta dishes and grilled fish.
Acidity 6%
Ingredients: Grape Must, Wine Vinegar
Net Wt. 250ml / 8.5 oz. 
WHOLESALE REQUEST? REACH OUT TO US!